NJHA Healthcare Business Solutions
is pleased to provide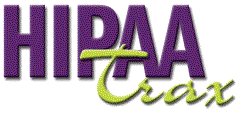 © NJHA Healthcare Business Solutions, Inc.
Access to Authorized Users Only
Click here to login
---
What is HIPAA Trax?
A practical solution to assist in the Accounting of Disclosures provision under HIPAA.

HIPAA Trax is designed to concurrently track qualified disclosures, including electronic disclosures.

Disclosures are easily input into HIPAA Trax in a variety of manners: by telephone, e-mail, facsimile, diskette or by electronic transfer of information.

Users access a Report Console to generate Accounting of Disclosure reports upon demand.


Interested in HIPAA Trax?
For additional information and pricing, please contact NJHA-HBS at (609) 936-2200 or via e-mail at hipaatrax@njha.com.